MFI endeavors to preserve and strengthen Massachusetts' most valuable and vital resources – its families. The future of our Commonwealth depends, ultimately, on the strength, vitality, and well-being of its families. That's why we work so hard to keep you informed about threats to them and provide a response to policies that bring them harm. We accomplish this by partnering with citizens and churches across the state. Don't miss out on these exciting events promoting our shared family values!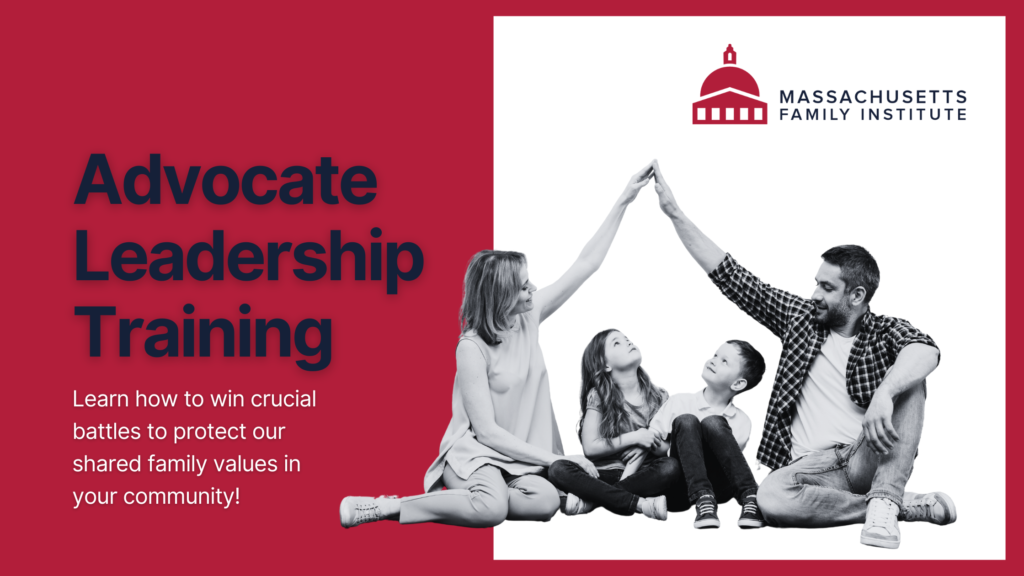 Join our Advocate Leadership Training
One of the ways we guard against attacks on MA families is by equipping and empowering citizens to bring change in their local communities.
Join us for our upcoming Advocacy Leadership Training! This dynamic training will teach you long-term strategies to win crucial fights like persuading your school committee to adopt policies that strengthen parental rights, prevailing upon your local library to remove graphic material, defeating local orders that threaten women and unborn babies, and more. Don't wait for someone else to bring the needed change where you live. Be the one to stand in the gap for children and families. The first training is being offered virtually this Saturday, April 29th from 9 AM to 4 PM. Additional virtual and in-person training is scheduled in May and June. Click here for dates and locations and to register.
Start or Join a Learning Center in Massachusetts
Every day it seems there is a new headline reporting on the harm being done to children in our nation's schools. MA schools are no exception. Are you a parent or pastor concerned about the woke indoctrination of our children in education? Then don't miss the final stop on our spring Learning Center Tour Saturday, May 6th from 10 AM to 2 PM at Real Life Learning Center in Somerville! Learn about this exciting schooling movement of churches and families taking back responsibility for children's education. Click here for more information and to rsvp.
Christians Unite Against SatanCon
In March, we alerted you about the effort by The Satanic Temple (TST) headquartered in Salem to establish After School Satan Clubs in MA schools. And earlier this year we informed you that TST is holding its second annual "SatanCon" in Boston this weekend. Advertised as the "largest satanic gathering in history" and "a weekend of blasphemy and remembrance," SatanCon is planning to feature Satanic rituals, a Satanic marketplace, and even a Satanic wedding chapel.

The event has drawn national concern from Christians. MFI has assisted in connecting local pastors who have responded by planning a revival campaign of worship and prayer beginning on Friday and continuing through the weekend, gathering Christians from Boston and beyond to unite against SatanCon. Revive Boston will conduct evangelistic outreach across the city during the day and will gather for worship and prayer in the evenings. Through prayer, worship, and evangelism the saints of God will battle the kingdom of darkness and intercede for the soul of Boston and of our nation. Pray that many will be led to Christ. Watch the video above or click here to learn more about Revive Boston and for a schedule of the weekend's events.
MFI cannot continue the vital work of safeguarding faith, family, and freedom in MA without your help. Please donate today!