I've been fielding phone calls and emails over the past year from teachers and parents who are struggling to navigate the new speech codes being implemented at schools around the Commonwealth. Almost as soon as the first gender identity laws were passed in MA, our state board of education gained national attention for an 11-page guidance document that was, at the time, viewed as a shocking foray into cross-sex confusion for children. It included, among other things, a requirement to use the preferred pronouns for students with gender identity disorder:
"[S]chool personnel should use the student's chosen name and pronouns appropriate to a student's gender identity, regardless of the student's assigned birth sex. For those students who have been attending a school and undergo gender transition while attending the same school, it is important to develop a plan for initiating use of the chosen name and pronouns consistent with the student's gender identity."
Five years later, this forced collaboration with delusion is being normalized across the country. Last week, Peter Vlaming, a French teacher in Virginia, was fired because he used a female pronoun for a student who is in fact female, but who "identifies" as male. Although the teacher had agreed to use the student's new male name and to avoid pronouns altogether, his fate was sealed when he blurted out "Don't let her walk into the wall," during a classroom exercise where the student in question was wearing virtual reality goggles and seemed about to injure herself by crashing into the side of the classroom. (Ironically, the symbolism could not have been more appropriate if I had scripted it myself.) This is the true face of the transgender movement: nothing short of total affirmation will be tolerated. So Christians, like Vlaming, will be forced to publicly affirm the lie that girls can become boys, boys can become girls, and some students are "gender fluid."
Speaking of "gender fluid," you won't believe the latest in the saga of former Swampscott principal Thomas "Shannon" Daniels, who announced in March of this year that he is "gender fluid." After a vote of no-confidence by parents, the school committee declined to renew his contract and so, of course, he lawyered up. Daniels and the school have now reached a settlement agreement that dictates the following bizarre and infuriating terms. Daniels will: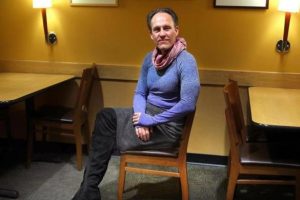 – identify as "gender non-binary, meaning that [he] does not identify as fully male or fully female. Daniel's clothing choices may reflect that gender identity."
– inform the school district about the title and pronouns that he intends to use as a teacher before the start of the 2019-2020 academic year.
– not change his gender identity without giving two-weeks notice.
– submit a certificate from a licensed psychiatrist certifying that he can "safely perform the essential functions as a Swampscott School District Teacher."
– not change clothing during the course of the school day.
For those terms, the hard-working taxpayers of Swampscott will have to fund a lump-sum payment of $90k to Daniels and his attorneys, a full year of PAID administrative leave, and accept the rehiring of Daniels to teach grades 1-5 for the 2019-2020 school year at an $80k+ salary.
The settlement document is truly surreal, referring to Daniels as both "he" and "them-self." It's not clear whether this inconsistency is an unintentional "mis-gendering" of Daniels by one of the attorneys, or simply a reflection of his "gender non-binary" identity, which perhaps changed during the course of negotiations.
On a much more positive note, the New Boston Post has an article up this week about another settlement that should be very encouraging to us all. Kelvin Cochran, the former Atlanta Fire Chief who was terminated after he published a book containing one sentence that referred to homosexuality as sin, has finally been vindicated. Many thanks to our national partners at Alliance Defending Freedom, who took his case and forced the city of Atlanta to admit they had violated Cochran's constitutional rights. Hopefully, Peter Vlaming in Virginia will get the legal help he needs as well. This is a developing area of law, and it is unclear where these new battles over what must be said and what may not be said will take us. If you or someone you know is facing a challenge in your school or workplace like Chief Cochran or Peter Vlaming, let MFI know. We're here to help you stand for truth.
Christmas on Beacon Hill
I hope to see many of you next Thursday, December 20th, from noon to 4 p.m. at the State House for the annual Celebration of Christmas on Beacon Hill event. A bipartisan team of legislators led by Jim Lyons is sponsoring this event to help us all take a moment out of our busy holiday schedules and reflect on the true meaning of Christmas.
We will be gathering in the Great Hall to view the Nativity Scene and celebrate the holiday season with Christmas carols, festive snacks and plenty of Christmas spirit!
Blessings,