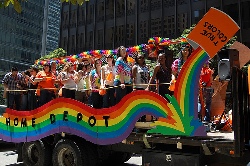 On Thursday, May 17, the American Family Association delivered an additional 254,976 petition signatures to Home Depot chairman Frank Blake during the company's annual shareholder meeting.
AFA also addressed Blake, the board of directors and the shareholders.  AFA spokesman Randy Sharp appealed to Chairman Blake to review Home Depot's extensive support for homosexual activism and direct the company toward neutrality in the culture war.
Chairman Blake tepidly responded, "We are, and will remain, committed to a culture that fosters an inclusive environment for our associates, our customers and communities in which we exist."
***
AFA is promoting a boycott of Home Depot until it agrees to remain neutral in the homosexual culture war. The total number of people who have signed the Home Depot boycott pledge is 719,037.
Read more HERE.